Un po' di tempo fa Serena e Federico mi avevano chiesto se mi sarebbe andato di dare una mano a Ronald e a loro, scrivendo le musiche per una variante dei puzzle-con-le-botte che ultimamente vanno molto di moda; ho accettato con l'entusiasmo che mi contraddistingue quando c'è lo spirito giusto per lavorare su qualche pezzo nuovo.
Dopo diversi mesi di lavoro coordinato ecco la prima demo pubblica (BADABENE: gioco pornereccio basato su fumetto pornereccio -> uomo avvisato etc. La versione completa ovviamente è riservata agli abbonati).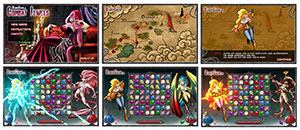 Così per fornire un minimo di background: ho usato quasi esclusivamente la libreria orchestrale di Kontakt 3, gli archi e i fiati di Garritan in bundle con l' EWI USB (davvero nulla di cui lamentarmi per essere una libreria omaggio) e, a rimpolpare ulteriormente l'arrangiamento, lo Steinway di Akoustik Piano trapiantato dentro Kontakt più infine un mio vecchio - prevedibile - vizio che comincia per M e finisce per 1.
Mastering e molestie al giusto sonno dei vicini di casa sono stati effettuati dentro Logic Express 9.
E ora un paio di clips:
World Map (MP3 160Kbps CBR, 1.5Mb)
Success Loop (MP3 160Kbps CBR, 788Kb)
2 comments
Comment
from: Ronald [Visitor]

·
http://www.vixine.com
Hey Mark! Just wanted to say you did an awesome job with the music and sound fx for the Bloody Sugar Combat Jewels game!

Bravo!! The music score and sound fx really enhanced the game's gameplay experience.!

-R
16.09.10 @ 01:47
Comment
from: Mark Fox [Member]

·
http://www.markfox.org
Hi Ronald, glad I could be of help!

It's been an overall stimulating experience as I don't normally do orchestral arrangements.
16.09.10 @ 19:17
This post has 545 feedbacks awaiting moderation...

Comment feed for this post
Leave a comment